Posted by KM Herbals on Jul 27th 2022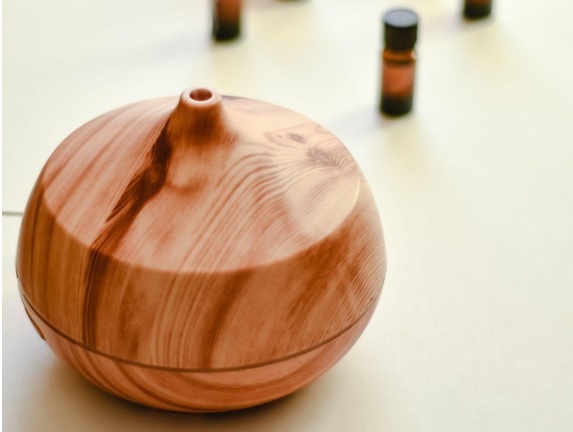 Essential oils are, in our humble opinion, just as their name suggests: essential! These natural compounds are extracted from plants and can provide ample benefits to those who utilize them correctly.
Essential oils can be beneficial by purifying and/or deodorizing the air, helping to ease anxiousness or boosting your overall mood, stimulating alertness and concentration, and so much more. However, it depends on how you use your essential oils and which essential oils you choose to use.
One of the best and easiest ways to use essential oils is with a diffuser, which is also referred to as an aroma lamp. Diffusers heat up a mixture of an essential oil or aromatherapy blend and water and disperse the vapors into the air via nebulization.
But which essential oils are best, what are their benefits, and what other essential oils can they be blended with to provide you with even more advantages? Let's take a closer look!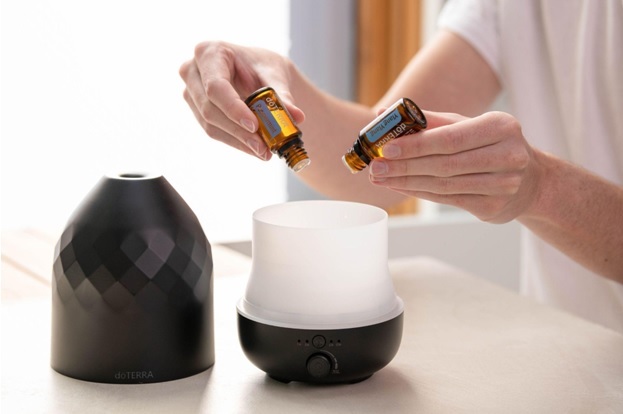 1. Lavender Oil
Lavender Oil makes it to the top of our list as one of the best essential oils for your diffuser and one of the most popular for use in aromatherapy recipes. The aroma that Lavender oil emits is known far and wide for its ability to promote relaxation.
Can be blended with: Bergamot, Cedarwood, Geranium, Lemon, Neroli, Patchouli, Clary Sage, Rose, Rosemary, Sandalwood, Tangerine, Sweet Orange, Petitgrain, Pine, Grapefruit, Frankincense, and Vetiver.
2. Eucalyptus Oil
Eucalyptus Oil is the king of both spiritual and mental clarity in aromatherapy. When you add Eucalyptus Oil to your diffuser, you may experience a refreshing stimulation of your senses, including some congestion relief.
Can be blended with: Lavender, Lemongrass, Rosemary, Lemon, Peppermint, and Cedarwood.
3. Tea Tree Oil
When you use Tea Tree Oil in your diffuser, it can help to detoxify the air and is a wonderfully herbaceous note to add into aromatherapy blends.
Can be blended with: Eucalyptus, Lavender, Clove, Pine, Nutmeg, Geranium, Lemon, Clary Sage, Cinnamon, Ginger, Rosemary, and Sweet Orange.
4. Bergamot Oil
Bergamot Oil is an excellent option for anyone looking to rejuvenate their mind and body. When placing a few drops of Bergamot Oil in your diffuser, you are likely to boost your energy and mood, especially when used alongside your other favorite botanical aromas.
Can be blended with: Chamomile, Rose Geranium, Neroli, Jasmine, and Ylang Ylang.
5. Oregano Oil
Yes, Oregano is more than just a scrumptious herb to sprinkle on your favorite dishes. Oregano Essential Oil is exceptional in aromatherapeutic diffusers because it can offer wellness support and invigorate both your mind and body overall.
Can be blended with: Rosemary, Bergamot, Peppermint, Lavender, Basil, Rosemary, Bergamot, Cypress, Cedarwood, and Tea Tree Oil.
6. Lemon Oil
Lemon Oil is one of the most sought-after essential oils available for various reasons. Not only can it refresh the room and surfaces by cutting through pungent and undesirable odors, but it also can promote a positive mood and lift your spirits.
Can be blended with: Basil, Sandalwood, Petitgrain, Ylang Ylang, Rose, Geranium, Eucalyptus, Frankincense, Tangerine, Grapefruit, Sweet Orange, Lavender, Lime, Myrrh, and Mandarin.
7. Mandarin Oil
There are several options of citrus essential oils, but Mandarin Oil is especially beneficial as it is the sweetest in aroma and most calming of all. When using Mandarin oil, you can expect a soothing scent that helps to boost your mood and refresh your space.
Can be blended with: Grapefruit, Tangerine, Cinnamon, Rosemary, Lemon, Lime, Geranium, and Petitgrain.
8. Peppermint Oil
Peppermint Oil is cooling and stimulating, and often a favorite to use for fatigue. It can be a wonderful option in your diffuser while focusing on tasks around the house like studying for school or working from home.
Can be blended with: Lavender, Lemon, Lime, Eucalyptus, Tangerine, Rosemary, Mandarin, and Sweet Orange.
9. Cinnamon Oil
Spicy and just a little sweet, Cinnamon is a lovely addition to diffuser blends. A favorite around the holiday season, its uplifting and comforting aroma can be added to other oils to create grounding and warming blends all year round.
Can be blended with: Sandalwood, Lemon, Grapefruit, Rose, Lime, Tangerine, Ylang Ylang, Cedarwood, and Sweet Orange.
10. Ylang Ylang Oil
Ylang Ylang Oil is a truly underrated yet powerful essential oil that everyone who uses a diffuser needs in their collection. Floral, refreshing, and slightly sweet, its scent is invigorating and uplifting.
Can be blended with: Lemon, Rose, Vetiver, Lime, Tangerine, Jasmine, Mandarin, Black Pepper, Sweet Orange, Geranium, Peppermint, and Grapefruit.
Our Aromatherapy Blends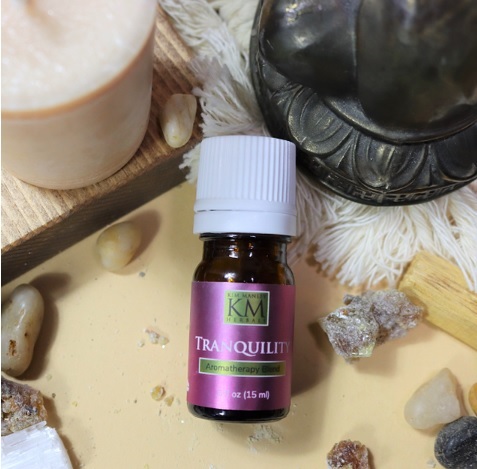 Not interested in making your own blends with individual oils? Browse our premium aromatherapy blend selection, made specifically for diffusers. Created by an herbalist, aromatherapist, and massage therapist, these expertly crafted and convenient options offer you the benefits of aromatherapy using some of our favorite botanical extracts. Choose from:
Purify: Lemongrass, Tea Tree, and Lavender
Tranquility: Frankincense, Myrrh, and Cedar Atlas Wood
Grand Forest: Douglas Fir, Black Spruce, and Sylvester Pine
Joy: Lavender, Tangerine, Sandalwood, Lemongrass, and Vanilla
By opting for our carefully formulated blends, you will not just experience the unique benefits of just one essential but multiple at the same time– and all in the perfect concentrations without the hassle of creating them yourself.
When you are looking for the most premium options in terms of aromatherapy blends, essential oils, and beyond, trust us here at KM Herbals to supply you with the best. We know what high-quality aromatherapy ingredients are and ensure that all of our products are both effective and of the purest quality. If you have any questions about our aromatherapy blends, essential oils, or any other aromatherapy products, give us a call at 707-878-2980.