Posted by KM Herbals on Jul 29th 2022
From sanitization to relaxation, aromatherapy products can be used for a wide variety of reasons, especially when it comes to creating an atmosphere in your home that is conducive to wellness.
Aromatherapy sprays, for instance, are a convenient way to introduce the power of essential oils into your everyday routine. Below we will be highlighting some of the common uses for sprays that contain essential oils, and how they can benefit you and your home.
Understanding Essential Oils
One of the great things about essential oils is that they are incredibly versatile. Here is just a short list of some of the more common ways these plant extracts are utilized:
High-quality perfumes and colognes
Skin-care products, including moisturizers, toners, and cleansers
Perfume candles
Massage oils
Bath bombs and other bath products
Cleaning solutions (Tea Tree Oil is a favorite here)
Spiritual and religious rituals
This versatility is due to the fact that essential oils are naturally beneficial to us in a number of ways. While their strong aromas are truly captivating, it's often their therapeutic and holistic benefits that attract people the most.
An important aspect of working with essential oils is understanding just what kinds of products to use to get the most benefit. You may have no interest in traditional aromatherapy, and that's perfectly fine. However, you should know that there's a lot more to these oils than simply dropping them into a diffuser.
This is where innovative products like aromatherapy sprays can help you experience the benefits of essential oils as conveniently as possible.
Common Uses For Aromatherapy Sprays
If you are new to room sprays, mask mists, and similar products, you might be curious as to just how aromatherapy plays a part here.
An aromatherapy spray typically contains a blend of essential oils that are diluted with purified water or alcohol, in order to create an easy-to-apply product. Rather than sitting by a diffuser, you get the aromatic benefits of the essential oils, along with other benefits depending on the product in question.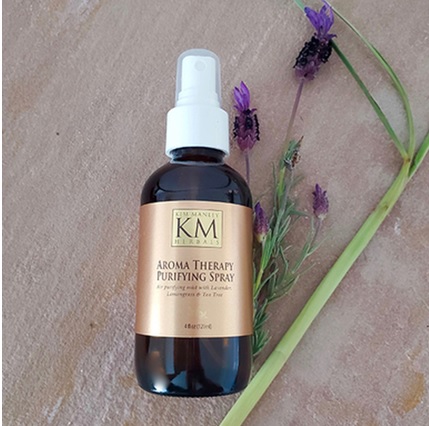 Our Aroma Therapy Purifying Spray is the perfect example of an aromatherapy spray that combines the traditional benefits of these oils with the cleansing power of ethyl alcohol, to create a useful product that can help you navigate the germy winter season!
We all know how important it is to invest in high-quality self-care and sanitizing products now more than ever. With fluctuating public health concerns, making sure you are keeping your surroundings clean is critical. Hand sanitizer and soap are mainstays, but have limited applications. Sprays, on the other hand, can be used under a wider variety of circumstances, including for everyday aromatherapy purposes to simply freshen the air.
You can use our Purifying Spray in frequented areas of the home such as the kitchen and bathroom, to help keep germs at bay. The lovely scent of Lavender, Tea Tree, and Lemongrass Essential Oils make this spray an excellent choice simply for making your home feel refreshing.
Aromatherapy room sprays aren't the only kinds of sprays that use essential oils, however. Depending on your specific needs, you will find several other options in our store that utilize the power of these amazing plant oils.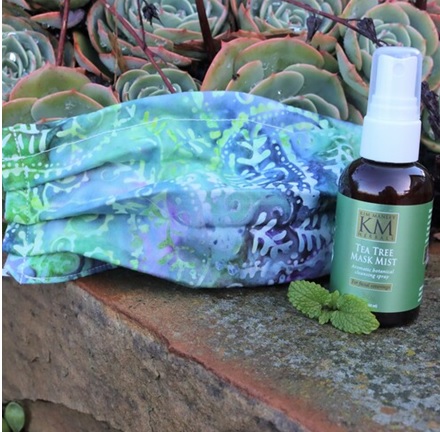 Mask Mists With Essential Oils
Face masks are now a staple for just about everyone, even if you live in an area that doesn't mandate them. Keeping these masks clean is important, and one way to help ensure they stay fresh is with the aid of aromatherapy mask mists.
By using our aromatherapy sprays, you are not only adding a pleasant scent to your masks, but are working to mitigate the effects of germs as well, with the help of organic grape ethyl alcohol. It's interesting how a few years ago none of us would have considered carrying around a "mask mist," which only goes to show the continuing versatility and power of essential oils. They truly are one of nature's gifts.
If you are concerned about your personal wellness and exposure to germs, keeping one of our mask sprays with you might be a great idea. We have several aromas to choose from, including Tea Tree and Rosalina.
While these mists can help keep your mask smelling and feeling fresh, remember to regularly wash them. It's a good idea to have several masks and rotate them out as needed. This best practice will ensure they remain as clean and hygienic as possible.
Purifying Your Home With Aromatherapy
Although aromatherapy oils are most often used in perfumes and for the purpose of relaxation and reducing stress, they can be an effective way to also keep your home clean as well. Simply giving each room a spritz with our Aroma Therapy Purifying Spray can help to revitalize the atmosphere while helping to combat germs. You can also use this spray on doorknobs, handles, and other high-touch areas.
Can You Make Aromatherapy Sprays Yourself?
With a few simple ingredients (and a suitable spray bottle), you can create your own aromatherapy sprays. If this is something you are interested in, we carry a variety of top-quality essential oils right here in our store.
However, why go through all the trouble? As you browse through our selection of products you will notice that we carry a wide variety of helpful aromatherapy products, including carefully formulated sprays and mists. We also carry hydrosols, which can be used for skincare purposes or as gentle aromatherapy spritzers for your home or office.
The Best Essential Oil Sprays For Your Home
Naturally, when it comes to products that contain essential oils, you will want ones that will actually benefit you, and which are crafted with wholesome ingredients.
From handy mask mists to a great selection of other aromatherapy products, you are sure to find what you need here at KM Herbals. Gentle formulas and high-quality ingredients are what we are known for, so if you are looking for wellness products that will make a positive impact in your life and around your home, this is where you will find them!