Posted by KM Herbals on Feb 18th 2022
Aromatherapy can be used in a number of ways to promote wellness. Especially for those always-overworked parts of the body: our hands and feet!
While aromatherapy products - such as various essential oil blends - are used to help relieve stress, essential oils can also be used for skincare purposes as well. Here we will explore some of the ways this holistic practice can help.
How Can Aromatherapy Products Benefit Your Hands and Feet?
Let's take a step back for a moment and really look at our physical bodies. First of all, note your skin, which is the largest organ in your body. It requires constant attention and the right products in order to make it the healthiest it can be. But, it does tend to take on more stress in certain areas and even show it, doesn't it?
Now admire your hands and feet. How often are you using them? Pretty much constantly, right? Whether you are walking to your car, holding your cup of coffee, talking on the phone, typing at your computer, or even reading this article (I bet your hand is on your mouse or phone right now), you are using your hands and/or feet.
These body parts are constantly stressed because of how often we use them. That is precisely why you should utilize the unique benefits of aromatherapy, and below we will explore some outstanding products to help pamper these oh-so deserving areas.
Aromatherapy for Your Hands
First and foremost, let's investigate an essential product you can utilize on your hands, wrists, and even forearms to keep them clean, moisturized, and reach optimal skin health all at the same time.
Aromatherapy Hand Sanitizer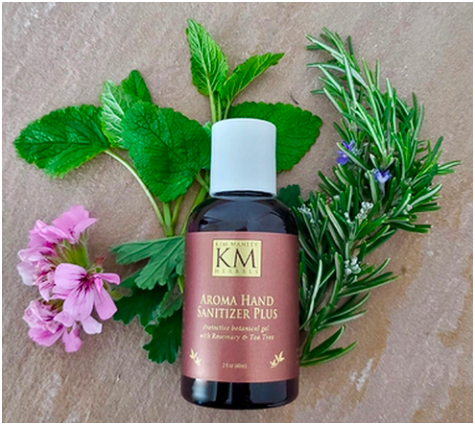 How dreadful is it when you put on hand sanitizer that not only has a pungent odor but also dries out your skin so much that your hands look like a desert? Well, what if a hand sanitizer didn't need to be so irritating (or even painful)?
That is where our aromatherapy hand sanitizer comes in. This hand sanitizer works to not only properly cleanse your hands but also moisturize them. In this aromatherapy hand sanitizer, there are several beneficial essential oils: Tea Tree oil, Rosemary oil, and Rose Geranium oil.
Tea Tree oil has long been known to clarify, warm, and even stimulate the skin. Rosemary oil, on the other hand, can cleanse and refresh the skin while hydrating and keeping oil at bay. Rose Geranium oil can properly balance the skin's oil production as well.
This ideal trifecta of essential oils within such a nourishing hand sanitizer, provides the care that they need and leaves them cleansed, moisturized, soothed, and even delightfully aromatic.
Aromatherapy for Your Feet
Your feet are constantly taking you from place to place, whether it just be from the bedroom to the bathroom or helping you rack up the miles on the treadmill. For these reasons, they may end up highly stressed, so the health of their skin should also not be swept aside. They deserve their very own special treatment!
Aromatherapy Foot Scrub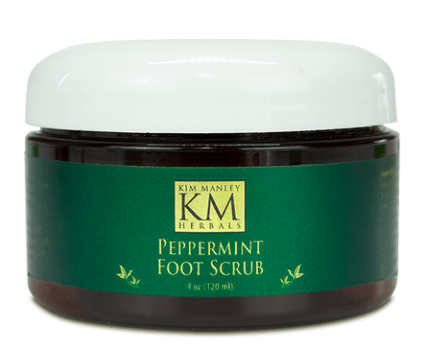 One of the best ways to successfully improve your footcare at home is to use foot scrubs, specifically one of our aromatherapy foot scrubs. Foot scrubs in general make it easy to scrape off that cumbersome dead skin while also providing you with other advantages.
When using the right foot scrub, you could reap massive benefits, which include:
●Easily remove accumulated dead skin, which not only affords you smooth skin but also assists in battling off painful calluses and corns
●Deeply cleanses to discourage conditions that lead to itchiness or discolored toenails
●Improve your skin's moisture to help avoid discomforts like cracked heels
●Improve circulation, which may help your body recover from soreness in the feet
●Improve your pedicure or at-home spa experience, and customize it just for you!
Foot scrubs are undeniably a great addition to any skincare regimen, but their benefits can be escalated when they include organic and other natural ingredients.
Our Peppermint Foot Scrub, for example, has natural Pumice (an ideal material for removing dead skin), Aloe Vera (an ingredient known for its moisturizing and moisture-retaining properties), and Virgin Coconut Oil (for calming and smoothing skin texture). The Peppermint oil within it naturally cleanses your skin while also providing an unobtrusive yet alluring aroma.
Where Should You Buy Aromatherapy Products for Hands and Feet?
When you are looking for the best aromatherapy products to promote hand and foot health, then you should trust in us here at KM Herbals. We are happy to provide all of our customers with products that can make them look and feel their best.
We have a wide range of products along with our aromatherapy offerings. If you have any questions about us or our products, feel free to give us a call at 707-878-2980.