Posted by KM Herbals on May 4th 2022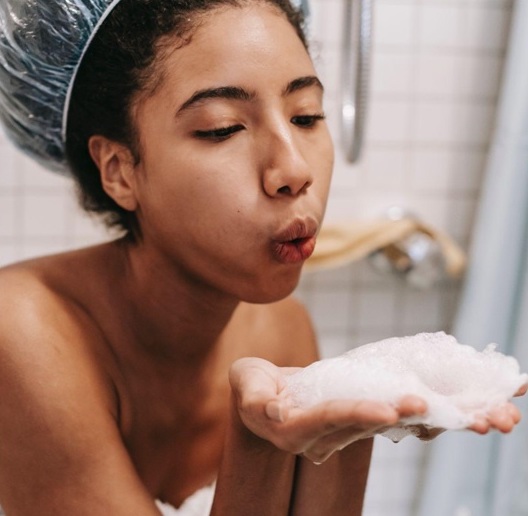 Your beloved shower routine: the moment during the day where you can truly be at ease, relaxed, and stress-free. While cleansing your body of impurities with your loofah, foamy products, and steamy hot water, you are simultaneously decompressing either before or after a long day and providing your body with the proper nourishment it needs.
There are countless shower products on the market today (and on your shower's shelves at this very moment), but there is one type of item that you might not be aware of: aromatherapy bath products.
Aromatherapy products provide your body with added benefits due to the presence of naturally fragrant botanical extracts within them. These unique formulations make every moment of their usage advantageous and enjoyable – even their aromas.
Wondering what an ideal aromatherapy shower routine looks like? Here are just six key elements you'd find in one (and we hope they'll inspire you to add them into yours!).
1. Bath Salts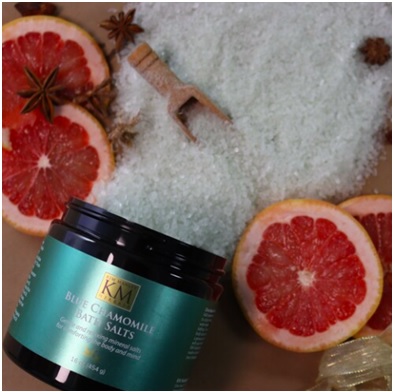 If you thought that aromatherapy bath salts (and bath salts in general) could only be used in a bath, it's time to think again! You can simply sprinkle these luxurious bath/shower products on the bottom of your shower pan to reap many of the astounding benefits! This is especially ideal for those who don't have a bathtub, but great for those who have one, too, and may not want to have to take a bath in order to use their aromatherapy bath salts!
After sprinkling aromatherapy bath salts into your shower pan right before you hop in, the hot water will slowly dissolve them. This dissolution will then create an aroma that can lead to countless benefits for you, such as decreased stress, improved energy, boosted concentration and mood, and even relieved headaches!
2. Body Wash
While your aromatherapy bath salts are dissolving beneath you in your shower, you should go ahead and reach for your aromatherapy body wash. Is there really anything better during your shower than scrubbing your body with a luscious lather? We really don't think so.
That's what you can expect when using an aromatherapy body wash – and then some. These products perfectly combine essential oils and other ingredients that will effectively purify, cleanse, and moisturize your skin. These body washes are exceptionally high in antioxidants, vitamins, and minerals, providing your skin with undeniable nourishment and soothing properties!
3. Body Polish
That's right: your body still needs some more TLC and an aromatherapy body polish is the right candidate for the job. Once to three times a week, you should add in a good body polish (which is more commonly referred to as an exfoliating scrub) into your shower routine.
An aromatherapy body polish will gently yet effectively dig deeper into your pores, rid them of those cumbersome and problematic particles (dust, dirt, and free radicals) that can lead to breakouts and other skin issues, and wipe your body clean of dead skin cells. The result? An astounding pH-balanced, replenished, and smooth surface.
4. Shampoo
Now that your body has been efficiently taken care of, you can move on to your hair. First up is your aromatherapy shampoo. Using such is highly recommended as these products have an abundance of beneficial ingredients for not only your hair shafts and follicles but also your scalp!
For example, here at KM Herbals, we offer the Everyday Herbal Shampoo. This shampoo is especially ideal for those with an irritated or sensitive scalp, as it is formulated with wild-harvested Seaweed, Horsetail, and Coltsfoot. These ingredients supply ample hydration to your hair and scalp without overdrying the latter. Horsetail in particular soothes and rejuvenates your scalp, which is truly ideal for all of us and our hair health!
5. Daily Conditioner
The next step for your haircare while in the shower is an aromatherapy daily conditioner. Daily conditioners in general are important to follow up your cleansing shampoo with because they provide moisture, smoothness, and overall ease of maintenance. By using an aromatherapy daily conditioner, however, you are taking these advantages and drastically amplifying them.
The natural ingredients in these products are rich in vitamins and minerals, plus, your hair will boast an aromatic scent you won't be able to get enough of!
6. Face Cleanser
For those of you who enjoy washing your face in the shower, don't forget to add in an aromatherapy face cleanser! These products dig deeper into your pores to leave your skin truly refreshed, replenished, and primed for your day (or evening). Plus, the uplifting and rejuvenating scent of these products gives you a boost you may not have known you needed, so you'll be walking out of your shower with an unwavering grin!
Have we convinced you to upgrade your shower routine? We hope we did because aromatherapy is our pride and joy and we love to bring the best aromatherapy products to everyone we can. When you are looking for the highest quality aromatherapy bath salts, body washes, and beyond, trust us to supply you with what you need (and deserve!).