Posted by KM Herbals on Mar 9th 2022
Living a life brimming with fulfillment requires taking your health seriously. This undoubtedly includes eating a healthy and balanced diet and involving oneself in regular exercise. But, what about the largest organ in your body: your skin?
Your skin is your body's natural shield against the world and its many perpetrators, both big and small. Day in and day out, it works diligently to protect you from environmental factors, illness, disease, trauma, abrasions, parasites, bacteria, and so much more.
With such a large role in keeping you as healthy as possible, why wouldn't you put taking proper care of your skin into practice?
That is precisely why you need a skincare routine to help you keep your skin looking and feeling good while also being its healthiest self. This "routine" includes not only your daily skincare regime for your face and neck but also your entire body! This is why an array of products that benefit every aspect is key, from a hydrating face serum to a foot exfoliator!
Without further ado, let's look at 11 products you need for keeping your skin healthy, wealthy, and beautiful!
Face
Your face is comprised of delicate skin that requires its own special attention in comparison to the skin in the rest of your body. We've included the key daily routine (cleanser, toner, serum, moisturizer, eye cream, and sunscreen) along with face masks, which are used less often but are still beneficial.
1. Cleanser
You should be using a cleanser every day twice a day (preferably morning and night). Cleansers effectively remove undesirable particles from your skin (dirt, grime, oils, etc.) while also providing key hydration to it. Cleansers can fight off breakouts, by ridding the skin of overabundant sebum, which can clog pores.
This product can also wash away dead skin cells, leaving a fresher and more luminous skin layer behind. On top of all of this, using an effective cleanser can even improve the efficacy of your other products' penetrative properties.
2. Toner
Even after you use your favorite cleanser, there is still stubborn dirt and other impurities left behind, and these can indeed clog your pores and cause near-future issues. By using a toner after your cleanser, you are ridding any remaining particles that can do damage to your skin. Plus, it rebalances your skin's pH level and, as its name suggests, improves your skin tone.
3. Hydrating Face Serum
Now that your face is fresh and free of what could potentially cause your skin harm, it's time to help your skin remain gorgeous. With the assistance of a hydrating face serum, you can make your face's skin appear more youthful, as it helps to decrease the appearance of fine lines and other signs of aging. The final result: pure radiant and younger-looking skin!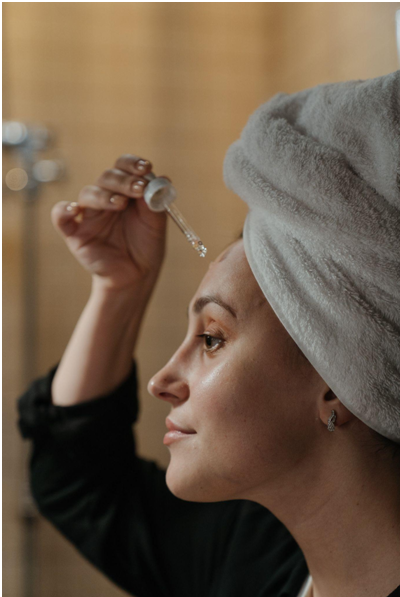 4. Moisturizer
If you couldn't already tell from its name, a moisturizer sublimely moisturizes your skin. It provides it with necessary nutrients and hydration to best protect it from dryness and, ultimately, premature signs of aging.
You can apply moisturizer twice per day, once in the morning and once at night. This method is the best as it ensures your skin is continually hydrated around the clock.
5. Eye Cream
Did you know that the most sensitive skin in your body is located near your eyes? That is why the skin around your eyes requires its very own product to maintain optimal elasticity, hydration, and overall wellness.
You should be applying eye cream only once every 12 hours following your moisturizer as it is unnecessary to use it more often than that (which could cause some unintended effects - it's all about balance!).
6. Sunscreen
Whether the sun is out or hiding behind storm clouds, it's still imperative that you apply sunscreen to your face prior to going outside. UV rays are quite detrimental to your skin, especially the delicate skin on your face, and can lead to not only wrinkles and fine lines but also skin cancer! Always remember to apply sunscreen to properly protect your skin.
7. Face Masks
Face masks are also an excellent way to provide your skin with ample and deeply penetrative hydration in a short period of time. These masks ultimately come in peel-off or wash-off options, but each is effective in a similar way: a film that gives your skin a burst of nourishment, exfoliation, and provides remarkable hydration.
While these masks can be extremely effective, they should only be used once or maximum twice a week. However, be sure to select the right option for your particular skin type. For example, clay and charcoal masks are exceptional options for those with oily and blemish-prone skin. Meanwhile, brightening masks are best for dry or dull skin types.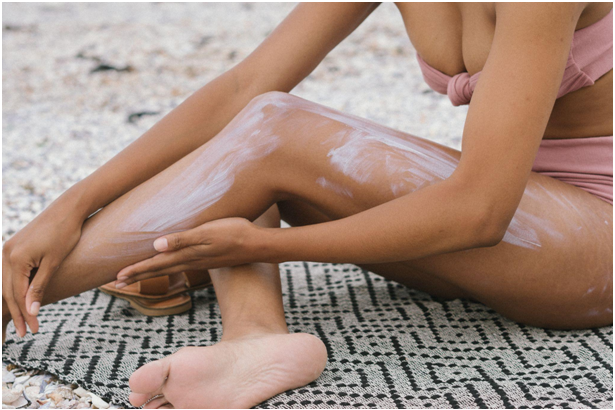 Body Care
Now let's talk body. The skin on the rest of your body, while not as fragile as your face's skin, still requires some TLC of its very own.
8. Lotion for the Body
If you aren't applying lotion to your entire body at least once a day, then we highly suggest that you start now. Body lotion effectively locks in moisture, keeping your skin looking (and feeling) refreshed and supple. It also fights off those irksome and unwanted signs of aging.
9. Exfoliator
Once every ten days, you should be exfoliating your body. This will greatly assist in removing dead skin cells and making your skin deeply cleansed, youthful, brilliant, and silky soft. Apply, rub, and wash it off in the shower for softer and more radiant skin.
10. Foot Exfoliator
The thickest skin on your entire body is located on your feet, making the skin in this particular location unique to every other location on your body. Therefore, it's imperative that you use products specifically formulated for your feet.
We recommend that you use a foot exfoliator. Exfoliate in the shower regularly in order to remove dead skin cells, which will then leave your feet exceptionally soft and replenished.
11. Foot Cream
Applying cream specifically designed for feet will properly penetrate your thick skin and provide your feet with the hydration they need. Use foot cream every day for optimal benefits to keep your feet healthy and ready to tackle the task of carrying you to and fro every day!
When you are looking for the best personal skincare products, trust us here at KM Herbals to supply you with just that. We have a large selection of key and high-quality items for keeping your skin nourished and looking its best.
Be sure to browse all of our offerings, such as our hydrating face serums, our body care products, and so much more! Give our dedicated customer service team a call today to get started at 707-878-2980!