Posted by KM Herbals on Dec 17th 2020
Our herbal oil extracts are produced on-site in our coastal manufacturing facility, many using plant material freshly harvested from our permaculture garden located right outside! Additional dried herbs are sourced from various sustainable resources like local family farms and eco-conscious suppliers.
Those of us engaged in an active lifestyle know that the key to a successful fitness routine comes in two parts: the workout and the recovery. We often give most of our attention to the workout - taking fun gym selfies, putting more money into our workout wardrobe than our work day wardrobe, and experimenting with new challenging ways to keep active. But without allowing your body adequate time to rest and heal, your next trip to the gym or yoga studio could fall flat.
Aside from proper sleep, hydration, and nourishment, there are many tools available to give your recovery period a little boost, and Aromatherapy is one that while powerful, is sometimes overlooked. We've heard the buzz about aromatherapy for years, but may not fully understand what it is or exactly how it works. While many essential oils – the aromatic plant extracts used to practice Aromatherapy – are widely available, they can vary greatly in fragrance and function.
What exactly are essential oils?
Essential oils are obtained during the steam distillation process of plant material. There are oil-soluble and water-soluble constituents extracted from the plant, both bearing many of the same healing properties. The resulting oil portion of the distillate is the highly concentrated essential oil, and the water portion is the hydrosol (often referred to as a "floral water"). While both of these extracts can be used for aromatherapy and personal care, the higher concentration of constituents in essential oils makes them the most ideal for therapeutic applications when diluted properly.
Essential oils work in multiple ways, but mainly through inhalation and topical skin absorption. When inhaled, the molecules stimulate olfactory receptors in the nasal cavity that communicate with the brain, nervous system, and other major body systems. This promotes emotional and physical responses like relaxation, stimulation, and relief. Additionally, the effects of essential oils when applied topically can provide more localized benefits, such as soothing skin irritation.
Which essential oils should I use?
After a workout, the best way to incorporate Aromatherapy into your recovery is by using essential oils that will help calm the body, support circulation, and ease discomfort in the muscles and joints. The following list can get you started:
Lavender (Lavandula angustifolia) - Soothing to the nerves and gently sedative, Lavender helps promote deep rest in the body. It addresses muscle soreness and cramps, in addition to improving the look of bruises, burns, and other topical injuries resulting from physical activity.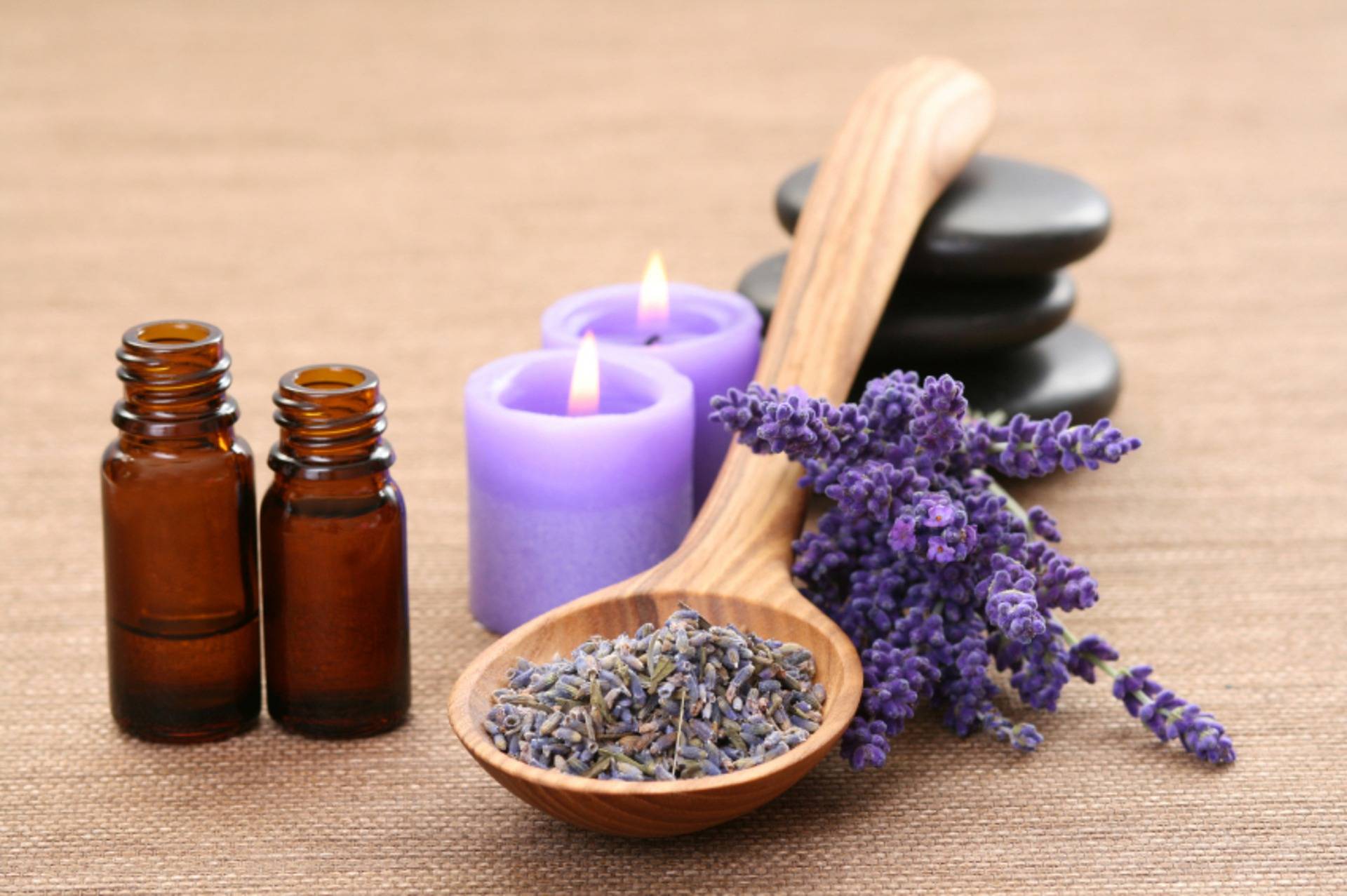 Chamomile (Matricaria recutita) and Tansy (Tanacetum annuum) - Calming to the nerves and soothing to overworked muscles and joints. It also addresses skin injuries, allergies, or heat and redness in the skin post-workout.
Wintergreen (Gaultheria fragrantissima) - One of the most popular and effective essential oils for muscle recovery, injuries, and other bodily discomforts, and has compounds similar to the active ingredients found in Aspirin.
Rosemary (Rosmarinus officinalis) - Stimulating and lightly sedative, Rosemary supports the circulatory system and helps your body move through soreness and discomfort for faster recovery. This herb also helps to cleanse the skin in the case of any scrapes or other topical injuries during physical activity.
You can also explore Aromatherapy Blends, like those offered in our online store. Warming Ginger, Sage, and Blue Chamomile are just a small selection that can help with muscle recovery and are also featured in our line of therapeutic Bath Salts.
How do I use essential oils?
Diffuse:
Find an Aromatherapy diffuser to vaporize the oils within your space. These may range in price and design, but can be selected to fit your preferred ambiance. Make sure to follow the manufacturer's instructions and use only pure essential oils without any base oils (like almond or coconut) included.
Soak:
Pair aromatherapy with the luxurious full body treatment of soaking in a bath of Epsom salts. These salts are rich in Magnesium, a key mineral for muscle recovery, and the heat of the bath will help ease your body into even deeper relaxation.

Massage:
Gently massage topical products like oils and gels onto overworked muscles and painful joints directly. Aromatherapy products rich in Arnica and St. John's Wort herbs are a plus, as they also help to soothe the body and can lessen the appearance of bruising. Our Injury Oil incorporates these herbs with Lavender and Blue Tansy essential oils, and can be applied directly to the area of discomfort. You can also mix essential oils into your favorite moisturizing oils for use after bathing, which help replenish the skin after a salt bath and ease the dryness of the winter season.
A compact and convenient tool for workout recovery, essential oils support the body on both a physical and emotional level. You can easily take advantage of Aromatherapy's many benefits by customizing it to your lifestyle, and since there are so many specialized products available today, with minimal effort and maximum enjoyment, you can make Aromatherapy your new workout recovery ally.